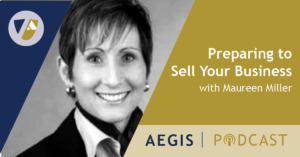 Maureen Miller is an experienced business attorney and diligent advocate for privately held businesses nationwide. With her 20 years of practicing law, Maureen is an experienced closer for over $100 Million in business transactions, both nationwide and globally.
Maureen's clients include family-owned and privately held businesses in the fields of science, transportation, real estate, professional services, health care and technology. Maureen's practice is focused on corporate and tax law, mergers and acquisitions, joint ventures, spinoffs, succession planning, capitalization and management buyouts.
Maureen can be reached at mmiller@aegisps.com, and her biography is here.
Source: The AEGIS Podcast