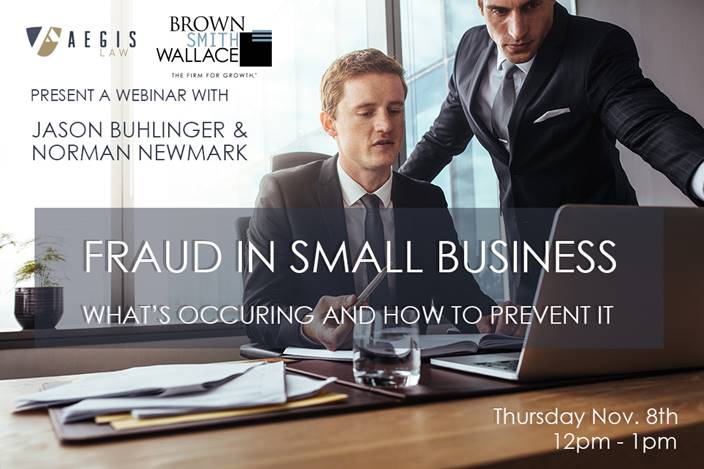 Occupational fraud is a threat to organizations of all sizes and industries. According to the 2018 study released by the Association of Certified Fraud Examiners (ACFE), occupational fraud costs organizations an estimated 5 percent of their annual revenue. Smaller businesses (those with fewer than 100 employees) typically experienced both the greatest percentage of fraud cases and suffered the largest losses. Do you know what red flags to look for when it comes to fraud, or what you should do if you suspect fraudulent activity within your business?
On November 8, AEGIS Law Senior Tax Attorney at AEGIS Law, Norman Newmark and BSW Transaction Advisory and Litigation Support Manager, Jason Buhlinger for a presentation on the fraud risk to small businesses and how to protect your business from embezzlement.  Jason and Norm's presentation will cover:
Fraud in Small Businesses
Red Flags of Fraud
How Can Small Businesses Protect Themselves
Next Steps if Fraud is Suspected
Click here to register today for this webinar!